Now, it's time to talk about Originals. When we last saw our new favorite character, Rebekah (Claire Holt), Damon had dumped her in the Salvatore basement with a dagger in her back. Don't worry, Rebekah fans — her red homecoming dress won't be collecting dust in that dungeon for long.
If you totally love Claire in the role as much as we do, we're certainly not alone! "She has been such a delight for everybody, from the crew and the writers, to everybody at the studio and network level that pays us to do our jobs," executive producer Julie Plec tells us.
That's not the say that they're surprised by how delightful she is. Rebekah strikes a perfect balance between nasty and sympathetic. "That character was obviously meant to make a splash. I mean, when we introduced her she gets to walk in and lick blood off Stefan's mouth. Hello. Her entrance was pretty powerful," Julie laughs. "She has this great presence. She's a mean girl without being unlikable, she's tough without being too aggressive, she's vulnerable without being a sap. Everything about her is so fun to watch. She also happens to be a very nice person off-screen, which is always a bonus.'
On-screen, it's no more Miss Nice Girl for a while. Rebekah will wake up soon (we can't tell you who pulls the dagger out, though!) and she is not a morning person. She shared some powerful secrets with Elena (Nina Dobrev) in the first half of the season, only to have Elena literally stab her in the back (only on this show!). And now she's pissed.
"She ain't gonna be happy," says Julie. "She doesn't like to be duped, she doesn't like to be betrayed, and she certainly doesn't let anyone get the one-up on her, which is what Elena did."
Though we can look forward to Rebekah being around Mystic Falls for quite a while, we shouldn't be expecting her to join the gang or get invited to slumber parties any time soon. (Via Zap2it)
Elena's back-stabbing ways may come back to haunt her onThe Vampire Diaries.
In the CW series' midseason finale, Elena (Nina Dobrev) proved that she, too, was capable of killing when she stabbed and killed Rebekah (Claire Holt) as she prepared for the homecoming dance. But since when has being dead stopped a vampire?
First Look: Torrey DeVitto on The Vampire Diaries
"We haven't seen the last of Rebekah," executive producerJulie Plec tells TVGuide.com. "The fact that Elena killed Rebekah is going to come back to bite her in the butt."
When the series picks up in January, not only does the Original sister return in a flashback, but she also makes her presence felt in the present day.
Exclusive: Vampire Diaries casts Klaus' Original brothers
"I'm not going to say when she makes her reappearance, but certainly her being undaggered is not in Elena's best interest," Plec teases.
(Via Tv Guide)
We never really had any doubt, but all Vampire Diaries fans can breathe an official sigh of relief now: Rebekah is not dead.
The fall finale, of course, concluded with Elena literally stabbing this Original in the back, but producer Julie Plec tell TV Guide viewers have not seen the last of Claire Holt. Not by a long shot. Errr, stab.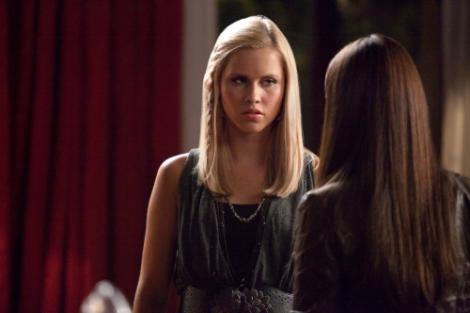 "The fact that Elena killed Rebekah is going to come back to bite her in the butt," Plec says. "I'm not going to say when she makes her reappearance, but certainly her being undaggered is not in Elena's best interest."
In other recent scoop unearthed by Plec, it doesn't look like the future is very bright for Caroline and Tyler. Indeed, Forwood will be moving backward when the show returns on January 5. (Via TvFanatic)