We never really had any doubt, but all Vampire Diaries fans can breathe an official sigh of relief now: Rebekah is not dead.
The fall finale, of course, concluded with Elena literally stabbing this Original in the back, but producer Julie Plec tell TV Guide viewers have not seen the last of Claire Holt. Not by a long shot. Errr, stab.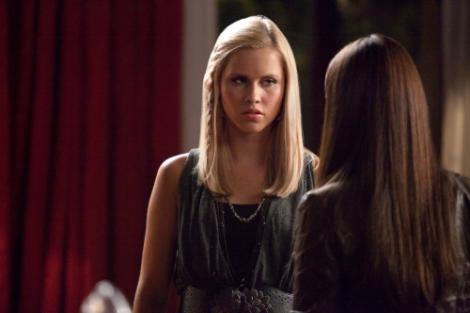 "The fact that Elena killed Rebekah is going to come back to bite her in the butt," Plec says. "I'm not going to say when she makes her reappearance, but certainly her being undaggered is not in Elena's best interest."
In other recent scoop unearthed by Plec, it doesn't look like the future is very bright for Caroline and Tyler. Indeed, Forwood will be moving backward when the show returns on January 5. (Via TvFanatic)
If you watched the midseason finale for "The Vampire Diaries" this past week, then you already know that Claire Holt's character of Rebekah was victim to a certain stabbing during the plan to stop Klaus (which really didn't end up working thanks to Stefan). However, as anyone knows there is only one real way to kill and Original — and all Rebekah currently is in a state of paralysis until someone removes the dagger.
There is one reason not to fret, though – E! News is reporting that the character will be turning up again sooner rather than later next year. However, we don't know exactly yet whether this will be in a flashback or in real life as she tries to either stop Klaus or help him out. For now, Jeremy seems to be the one in greatest danger courtesy of the promo to the left — but it's hard to see Rebekah having any motivation to help him at all.
Thus far, this season has been the best yet in many ways — what do you want to see happen when the show returns in the new year? (Via Examiner.com)
Tonight's "Ordinary People" will take a long visit to the Viking period, as we'll meet, at minimum, Klaus and Rebekah's mother and little brother, Henrick. So who better to ask for some scoop prior to the installment than Rebekah herself, Claire Holt?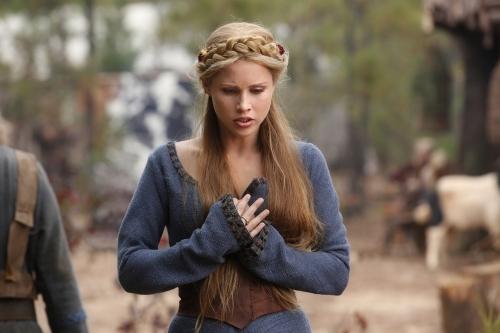 "The episode tells the story of the Original family and reveals why Rebekah and Klaus are the way they are," the actress told me over the phone. "What happened to them during this time period to make them behave as they do now?"
Indeed, the siblings may fight – Klaus did stake her and everything – but Holt says they have a "bond" and a "loyalty" that is unwavering. Might it have something to do with their connection to Mikael?
"We'll get more answers about why they're so afraid of him," Holt teases. "There's a very good reason that will be made clear."
Not every moment tonight will be spent in the past, of course. In present day, Rebekah will confront Elena. These two have loved the same vampire and Holt says her snarky Original is, in many ways, "just a girl. She just wants to have friends."
But don't count on Rebekah and Elena doing each other's nails by the end of the hour.
We have no idea why, though. Rebekah is hilarious! She cracks us up with almost every line, prompting me to ask Holt for her favorite.
"I laugh at every table read we do," she said. "So I could choose almost any… but probably when she commented on how 21st century women all dress like prostitutes."
Compared to the Viking era, that's definitely true. Tune in tonight, VD fans, to see what we mean.
(Via TVFanatic)
'The Vampire Diaries' is flashing back again! This time we're going back about 1,000 years to see Rebekah's past and the origins of her tumultuous relationships with her brothers Klaus (Joseph Morgan) and Elijah (Daniel Gillies), whom we haven't seen since last season.
We've got some exclusive behind-the-scenes photos from tonight's episode, titled 'Ordinary People' (Thurs., Nov. 3, 8PM ET on The CW), that prove one thing: Rebekah (Claire Holt) sure does like to braid her hair.
This episode finds Rebekah revealing a few ancient secrets about the Original family. But will the revelations keep Rebekah from getting into an all-out brawl with Elena (Nina Dobrev)? There's some serious 'Mean Girls' stuff going on here, and we're sort of loving it.
Take a look at our behind-the-scenes photos (which include a horse and some kind of wolf-dog roaming around in the background) after the jump.
(Via AolTV)
Flashback-crazed The Vampire Diaries is doing the time warp again.
This week's episode (airing Thursday at 8/7c on The CW) travels back 1,000 years to Viking times and, not surprisingly, the hour promises to be a mythological bonanza.
"There's going to be a lot revealed about the Original family and where we came from," previews Claire Holt, who plays the newest Original vamp in Mystic Falls, Rebekah. For those keeping track at home, the clan also includes blonde, bad boy brother Klaus (Joseph Morgan) and dearly missed Elijah (Daniel Gillies, who returns in this week's episode). We'll also meet the Original mother, the powerful Esther (Alice Evans).
"You get to see how [Rebekah] interacts with her family and what it was like back then," continues Holt, who says the episode sheds light on "how her relationship with her brothers and how her relationship with Klaus developed. [You'll see] why they became so close and why they are so loyal to each other."
Perhaps it has something to do with Mikael, the big bad vampire that sends daggers of terror through even Klaus. "You'll learn that there's a very good reason why they're afraid of him," teases Holt. "It has a lot to do with their history and why they are the way they are… He's definitely a threat to them."
The CW Schedules The Vampire Diaries Fall Finale and Winter Premiere
(Via TvLine)
Big news, "Vampire Diaries" fans — we've got another Original on the way! Zap2it has confirmed that Alice Evans is set to star as Esther, the mother of Klaus, Elijah, Rebekah… and more original vampires, yet to be seen.
Esther will first be seen in flashbacks (as in, way, way back) in Episode 308. As fans of the series know, this fierce mama vamp had a scandalous dalliance with a werewolf, which resulted in our pal Klaus (Joseph Morgan) ultimately becoming the first hybrid werewolf-vampire.
Evans, who is married to The CW's "Ringer" starIoan Gruffudd, played young Eloise Hawking on "Lost" and had a memorable moment on "Curb Your Enthusiasm" as Heather Mills.
She certainly looks the part — though she and Rebekah (Claire Holt) look more like sisters than mother and daughter, they've got the same deviously charming smirk working for them.
Now the only question is… will Elijah (Daniel Gillies) appear in said flashbacks? And, more importantly, if he does… what will his hair look like?
Drop us a line in the comments section and let us know what you think of this casting scoop, vamp fans! (via zap2it)
This week on "The Vampire Diaries," Mystic Falls will be invaded by ghosts for a creepy episode that airs just in time for Halloween. We can't wait to see what Hot Uncle Mason and the others have up their sleeves, but we're also anxiously awaiting next week's episode, in which we travel back in time to see what Mystic Falls was like 1000 years ago.
We'll meet the Original family before they were turned into vampires. This episode marks the return of Elijah (Daniel Gillies), everyone's favorite honorable vamp; and we'll also be introduced to the mother of the Original sibs, Esther (Alice Evans). We've got our fingers crossed for more information about Mikael (Sebastian Roche), and we will finally meet the Original Witch that has recently been wreaking havoc from beyond the grave.
While we wait, check out these pics from the episode — including a shot of Rebekah (Claire Holt) seemingly consoling Klaus (Joseph Morgan). We can't blame him for being upset. You would be, too, if that was your hair.
(Via Zap2it)